We fight for what the world should be
SUSTAINABILITY. EDUCATION. INCLUSIVITY.
Whether it's destigmatising periods, disrupting gender stereotypes or protecting the planet, every day we commit ourselves to building a better world. One that's safe, inclusive and sustainable for all.
Living our values
Sustainability
The world isn't something we take for granted. Preserving it is a responsibility we happily bear and it's why our cup is reusable and recyclable. We also use zero-waste packaging and renewable energy while encouraging remote work and promoting sustainable activities in every possible way.
Education
We want to liberate everyone from the shame and pain that comes from period stigma. Education is the answer. We help people from all over the world access the right knowledge and spread the message that periods are NOTHING to be ashamed of. This is how we smash taboos, normalise period talk and unlock people's power within.
Inclusivity
Not all women menstruate and not all people who menstruate are women. No matter how you identify, we welcome you with open arms. Lunette is here to provide gender-neutral guidance and support for all things bodies and periods so you can bleed with confidence.
Over 150 000
Education booklets printed and distributed around the world
500
Education packs delivered for healthcare professionals every year
Over 30 000
Lunette Cups donated through various organisations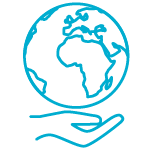 Over billion
Disposable period products reduced from landfills and oceans
Changing the world together
We've teamed up with some kickass organizations, charities and initiatives, to fearlessly ignite discussions related to reproductive health, give vulnerable people access to safe hygiene and catalyse period positivity around the globe.
Our key partnerships and projects